| Home | Ignition | Crankcase | Propeller | Tensioner | Thermostat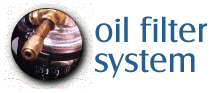 Have You Always Wanted an Oil Filter?
Announcing the AT-4F Oil Filter System
Diagram of Oil Filter (12k)
Separately mounted Filter Assembly for ease of installation and maintenance.
Easy one hour, "bolt on" installation, all necessary components included.
Uses standard automotive spin-on cartridges, Fram PH3614 or equivalent.
Built in pressure regulating valve for improved regulation.
Compact Design--10.5 x 4 x 4 (incl 1.5" for filter removal).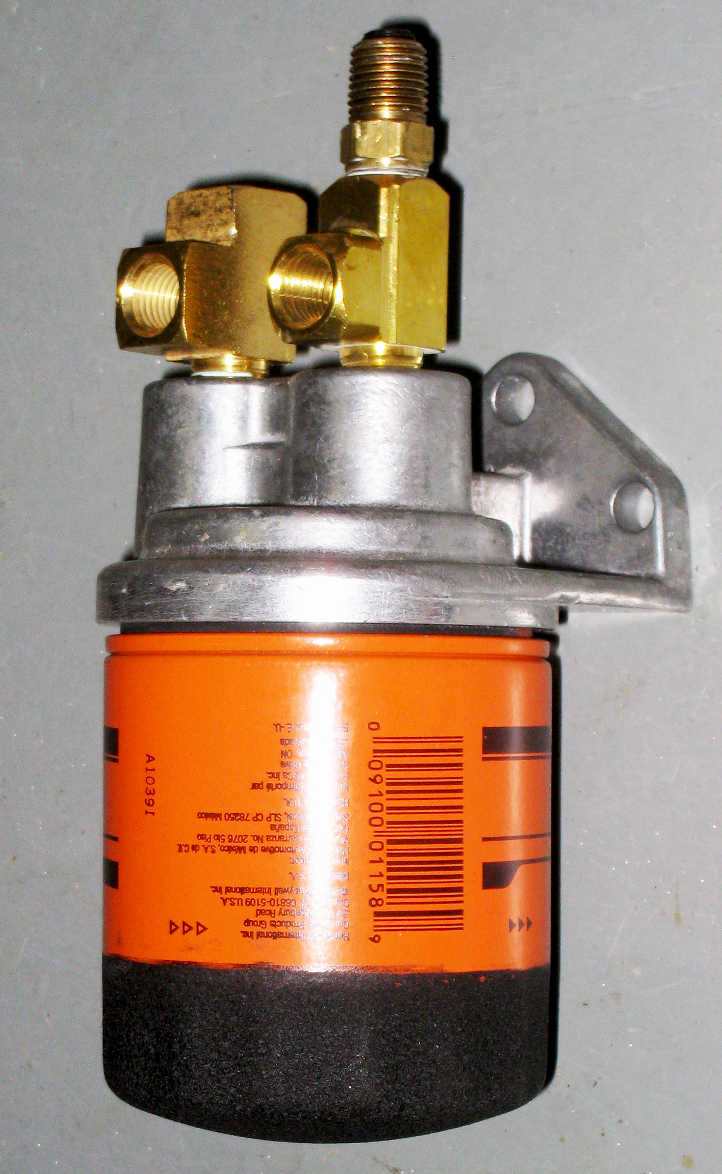 Introducing the AT-4F Oil Filter Sytsem from Indigo Electronics. This kit has been expressly engineered to upgrade the Atomic 4 engine and provide long overdue engine oil filtration.
The nemesis of any internal combustion engine is dirty oil. As built, the Atomic 4 had no provision for any oil filtration whatsoever. Even if the oil is changed each season, combustion byproducts begin to contaminate new oil as soon as the engine is operated. Now you can have the assurance that your engine will stay in top condition with the addition of an oil filtration system. The oil system of the Atomic 4 typically "dumps" back to the sump, via the internal pressure regulating valve, about 40% of the oil pumped. The Indigo System takes oil from the engine via the existing connection on the block where the oil pressure sending unit is attached, regulates the oil pressure and diverts the excess oil through an external filter and then returns it to the sump via the existing 3/4 NPT connection in the oil pan. While not a true "full flow" filtration system, the external filter does clean all of the oil in the engine about every 4 minutes at the cruise speed...a tremendous improvement over no filtration. Start cleaning up your engine today with the only kit expressly designed for the Atomic 4.
A Complete Retrofit Package
Easy one hour installation includes:

Step-by-step instructions
Precision machined Pressure Regulating Valve with broader regulation for more constant oil pressure. Existing PRV is "two-blocked" giving full pressure control to the new PRV.
Inlet connections (not the actual components) on Filter Assembly for:

Oil supply from engine (from existing 1/8 NPT oil pressure connection in block.)
Oil pressure indication (gauge or sending unit.)

Standard automotive spin-on filter cartridge, Fram PH3614 or equivalent
Externally mounted for optimum access.
All tubing and fittings for professional and easy installation.
NOTE: A Sump Oil Removal Tube and Pump-Out Connection are no longer included with this Kit
Call today for Credit Card orders or send check/money order to:

Indigo Electronics, Inc.
105 Pipe Kiln Court
Williamsburg, VA 23185
Order Today. You never knew sailing could be so much fun!
1-800-428-8569 toll free
or 757-593-8569
| Home | Ignition | Crankcase | Propeller | Tensioner | Thermostat