| Home | Ignition | Oil Filter | Propeller | Tensioner | Thermostat

Oil Smoke in Your Engine Compartment?
Announcing the AT-4CVS Crankcase Ventilation System
Diagram of Crankcase System
FAQs
Eliminates Crankcase smoke completely with the system that Universal forgot!
Easy one hour, "bolt on" installation, all necessary components included.
Eliminates fouling of carburetor air passages.
Improves Performance.
Guaranteed or your money back!
Introducing the AT-4CVS Crankcase Ventilation System from Indigo Electronics. This kit has been expressly engineered to upgrade the Atomic 4 engine and improve the engine compartment environment.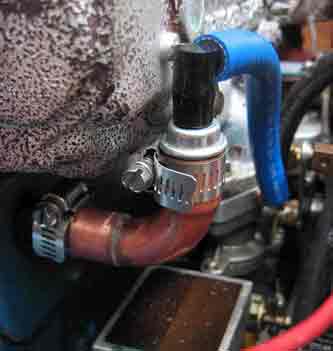 All internal combustion engines (even those just overhauled) generate oil vapor/smoke in the crankcase as a result of high crankcase temperatures, piston ring blow-by and valve stem blow-by. The suction hose (supplied originally by Universal) between the valve lifter chamber cover plate and the flame arrestor on the carburetor does not provide sufficient suction to effectively capture crankcase smoke. The automotive industry recognized the need for a different approach to the problem in the '60s and cured it by harnessing the suction available in the intake manifold. Now you can enjoy this same solution in a package engineered expressly for the Atomic 4.
A Complete Retrofit Package

Easy two hour installation includes:

Step-by-step instructions
Precision machined Aluminum Spacer Plate (to be installed between carburetor and manifold).
Drilled and tapped connections to:


Recover crankcase smoke (from lifter chamber cover plate).
Accept Carburetor inlet fuel recovery tube (presently introduced between #3 and #4 cylinders on the manifold).

PCV valve engineered to control flow into manifold.
All hoses and fittings for a professional and easy installation.
Send your questions or comments to me at thomas.stevens@cox.net

Call today for Credit Card orders or send check

money order to:

Indigo Electronics, Inc.
105 Pipe Kiln Court
Williamsburg, VA 23185
Order Today. You never knew sailing could be so much fun!
1-800-428-8569 toll free
or 757-593-8569
| Home | Ignition | Oil Filter | Propeller | Tensioner | Thermostat