| Home | Ignition | Oil Filter | FWC - Mech | Propeller | FWC - Electric

| Tensioner

| Thermostat

Every Engine Needs a High Temperature/Low Oil Pressure Alarm
Kit AT-4ALRM Now Available for use with the Indigo Thermostat Kit
Diagram of Alarm System
FAQs
Utilizes proven Cole Hersee components.
Allows for proper Coolant flow to normal temperature sensor and alarm sensor
Provides more accurate coolant temperature indication.
Includes necessary pipe fittings for easy installation.
Includes electrical crimp terminals to facilitate wiring. (No wire included)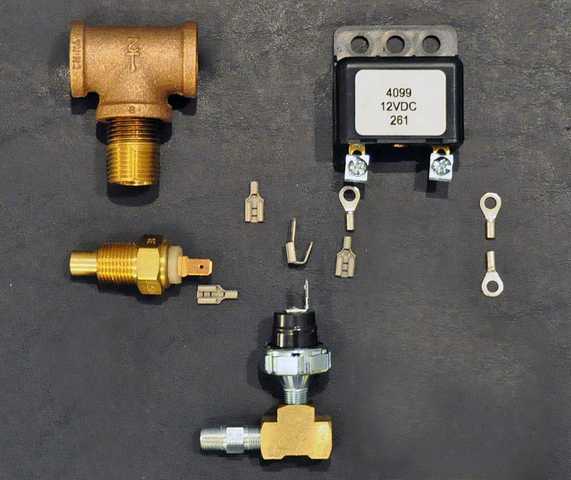 With the application of an Indigo Electronics Thermostat Kit to your Atomic 4 or other small marine engine, it now becomes possible to get a truly accurate coolant temperature reading as well as having the opportunity to install an additional temperature sensor to serve as a high temperature alarm. This Engine Alarm Kit is designed to do exactly that plus provide a low oil pressure alarm to boot. Here is how it works:
The Indigo Electronics Thermostat Kit is installed utilizing a 1/2" tee fitting on the engine manifold instead of a 90 degree ell fitting. By using a tee, an additional 1/2" NPT connection becomes available for sensing coolant temperature.
The existing temperature sensor (traditionally found on the forward end of the head on Late Model A4s) is removed from its current location and installed in the new 1/2" NPT connection on the new tee.
The temperature sensor provided in this kit is then installed in the head opening. This sensor becomes the high engine temperature sensor.
The oil pressure sensor provided in this kit is installed in the existing oil line into which the existing oil pressure sensor ties utilizing a steel hex nipple and a 1/8" tee. The alarm "buzzer" is now wired in a "daisy chain" fashion from the ignition switch to the buzzer to the oil pressure switch to the new temperature sensor in the head.
What can you expect with this Engine Alarm Kit installed? When starting the engine, the alarm buzzer sounds until oil pressure is established in the engine. (Some folks find the sound of the buzzer annoying at startup, others find it comforting to know that the system is working). Once operating, the only time the buzzer will sound is with a loss of oil pressure (less than about 5 psi) or high temperature at the engine head sensor (greater than about 210F).
Call today for Credit Card orders or send check/money order to:

Indigo Electronics, Inc.
105 Pipe Kiln Court
Williamsburg, VA 23185
Order Today. You never knew sailing could be so much fun!
1-800-428-8569 toll free
or 757-593-8569
Return to FWC Thermostat Page
| Home | Ignition | Oil Filter | FWC - Mech | Propeller | FWC - Electric

| Tensioner

| Thermostat